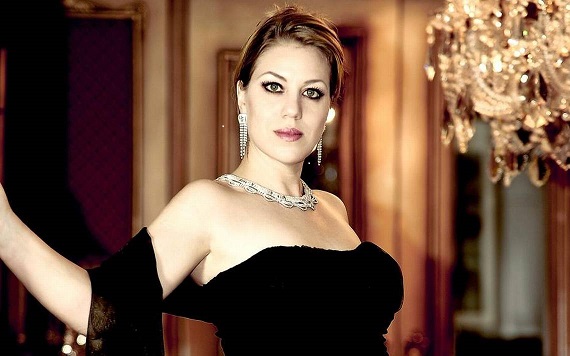 Elizabeth Caballero
The Venetian Salon at John Knox Village
Village Centre Auditorium
Saturday, March 24, 2018
Elizabeth Caballero (born in Havana, Cuba) is a Cuban-American lyric soprano. She emigrated to the United States via the Mariel Boatlift. Raised in Miami, Florida, she studied piano as a child and later studied voice at Miami-Dade Community College. Transferring to the University of Miami, she studied with Lorine Buffington and earned a Bachelor of Music in Vocal Performance. Upon graduation, she studied privately with Miami voice teacher, Manny Perez and continues to work with him. After the University of Miami, she participated in the Young Artist Program of the Florida Grand Opera for the 1999-2000 season. She was an Adler Fellow at the San Francisco Opera in 2004, as well as a member of the company's Merola Opera Program for two summers from 2001 to 2002. In 2001, she was a National Grand Finalist in the Metropolitan Opera National Council Auditions.
She has performed at the Metropolitan Opera, New York City Opera, Florida Grand Opera, San Francisco Opera, Seattle Opera, Carnegie Hall, the Teatro Verdi di Trieste, Berlin State Opera and many other venues in North & South America and Europe. In 2011, Caballero took part in Sabado Gigante, as a judge for Su Majestad La Voz, an American Idol-style voice competition for young opera singers.
Soprano Elizabeth Caballero's performance in her signature role, Violetta in La traviata, is touted as "animated, communicative and believable, singing with a big, facile, focused sound while making the vocal demands of the role seem easy and natural." Her dramatically compelling interpretation of Violetta led to recent engagements to perform the role for houses across the country, such as Florentine Opera, Madison Opera, Pacific Symphony, and the Orlando Philharmonic.
This season, Ms. Caballero will reprise her Violetta in La traviata with la Compañía Lírica Nacional in Costa Rica; sing the soprano solo in Carmina Burana with Asheville Symphony and National Chorale; return to The Metropolitan Opera for their production of La bohème; perform the role of Cio-Cio San in Madama Butterfly with Pensacola Opera; and reprise the title role of Daniel Catán's Spanish opera Florencia en el Amazonas with Madison Opera. Future seasons will see Ms. Caballero making returns to Seattle Opera and Austin Opera.