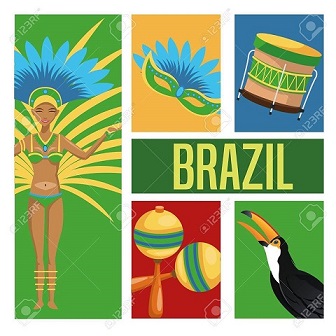 VAS Art Salon at ArtServe
September 27, 2018 6-9 pm
To benefit Broward County Guardianship Association
1350 East Sunrise Boulevard Fort Lauderdale, FL 33304
Antique Appraisal Fair: Trash to Treasure with Whitehurst & Associates of Antiques Roadshow
Art Brazil Exhibition and Agenor Garcia, Brazilian Contemporary Piano
VAS/JKV Residents $35.00 General Public $50.00
Please join us on Thursday, September 27, 2018 at Artserve from 6-9 pm for an evening celebrating Art Brazil…featuring an extensive exhibition of the work of Brazilian artists and a cameo performance by Agenor Garcia, renowned Brazilian contemporary jazz pianist!
"With a perfect balance of in-the-moment improvisation, Agenor Garcia compositions, jazz and classical rendering, it is a must-see concert".- The Blue Note Magazine
Agenor Garcia or "Age Garcia" as his friends call him, is a pianist who creates his own musical style. He is first and foremost an improviser, and greatly cherishes the surprise and wonder that can occur from a spontaneous musical idea that is expressed in real time. As he plays, he listens as ideas unfold and this inspires him to the next improvisational movement.
He is also fascinated by the idea of transforming the formal structure of music, which actually serves to stimulate the expressiveness of his improvisation.
Art Brazil will include an Antique Appraisal Fair: Trash to Treasure with Whitehurst & Associates of Antiques Roadshow benefiting Broward County Guardianship Association (BCGA) in the main auditorium with the Art Brazil Art Salon in the main gallery of Artserve. Admission with one (1) item for appraisal $50.00. Extremely Limited Appraisals!
BCGA is a tax exempt 501©3 organization founded in 1990 for the improvement of guardianship services. All donations are tax deductible as allowed by law. Federal ID# 65-0304731. Governed by a Board of Directors representing Broward County, Florida, BCGA is dedicated to pormoting the protection, dignity, and value of incapacitated persons through a code of ethics, advocacy and the dissemination of information. BCGA's mission also includes a focus on furthering the professionalization of guardians as accountable court representatives through education, networking, and legislative action.
Professional. Experienced. Confidential. The appraisers at Marvin & Whitehurst Appraisal Group, Inc. (formerly Diane Marvin Appraisal Services, Inc.) have been trusted by the legal community, bank trust officers, accountants and guardians for more than 20 years. Clients can count on our professionalism, experience and confidentiality. Personal property appraisers are not licensed, therefore anyone regardless of their qualifications may practice legally in the field. To protect themselves, consumers should seek qualified appraisers who belong to professional associations, subscribe to report writing standards, and are subject to a code of ethics and conduct.
Appraisal reports prepared by our firm are in compliance with the Uniform Standards of Professional Appraisal Practice (USPAP), the Congressionally-recognized set of appraisal standards promulgated by The Appraisal Foundation. The purpose of USPAP is to promote and maintain a high level of public trust in appraisal practice by establishing requirements for appraisers.
We are based in South Florida and locally serve Dade, Broward, Palm Beach, Martin and Indian River counties. We routinely travel the Keys to Jacksonville and to the West coast of Florida for larger appraisal assignments. For clients with property in multiple locations, either in Florida or other states, we encourage the use of our firm in preparing all of the appraisal reports to maintain consistency.